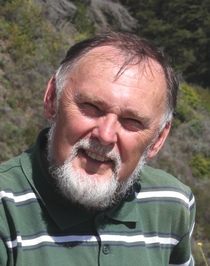 Dr. Petr Storch, DrSc.
Position:
senior scientist
E-mail:
storch

gli [dot] cas [dot] cz
Address:
Rozvojová 269, 165 00 Praha 6 - Lysolaje, Czech Republic
Specialization:
Lower Paleozoic invertebrate paleontology and stratigraphy
Petr Storch
Born in Prague, 1956
Education:
RNDr. (M.Sc.): Charles University 1980, in geology
CSc. (Ph.D.): Charles University 1991, in historical geology and stratigraphy
DrSc. (D.Sc.): Academy of Sciences of the Czech Republic 2001, in geology
Professional career and employment record:
1980-1994: Czech Geological Survey (1980-1989 mapping geologist, 1989-1994 head of Survey Museum and Dept. of Documentation).
1994- Present: Institute of Geology AS CR, since 2003 principal research worker.
2006-2007 Fulbright Research Scholar affiliated with Department of Geology, California State University, Long Beach.
My research interests are in invertebrate paleontology and stratigraphy of Late Ordovician and Silurian sedimentary rocks deposited approximately 455-415 million years ago. I trace and interprete past climatic and sea-level changes and their bearing on fossil biota. Current projects are focused on extinct planktonic hemichordates – graptolites and associated black shale successions.
Research activities are generally confined in northern peri-Gondwana (Czechia, Italy, France, Spain, Austria) and Gondwana (Libya, Algeria, Tunisia and Mauritania), although one project extended into Laurentia (central Nevada, USA).